En el arranque del "Kurt Cobain: Montage of Heck", el más reciente documental sobre la vida del artista, puede leerse que el film fue creado a partir del arte, la música, los diarios, películas caseras y audios aportados por su familia.
Además de ser la única cinta autorizada, dichos elementos la vuelven la más íntima del cantante, y una prometedora producción para los fanáticos del líder de Nirvana.
Los primeros minutos muestran al pequeño niño de los cabellos dorados siendo el centro de atención, celebrando uno a uno sus cumpleaños y sobrecargándose de energía conforme va creciendo; hasta que su hiperactividad lo fue volviendo ingobernable en un nicho familiar que comenzaba a fracturarse.
Atormentado por el rechazo de sus padres ya separados, Kurt encontró refugio en el punk, desarrolló un increíble talento musical al tiempo que se hacía vulnerable al ridículo: no podía soportar sentirse humillado y buscó alivio en las drogas y la anarquía.
Brett Morgen, el director de "Kurt Cobain: Montage of Heck", quien tomó el nombre de un demo que el músico grabó en 1988; abordó de manera muy creativa la psique atormentada y llena de contradicciones de Cobain.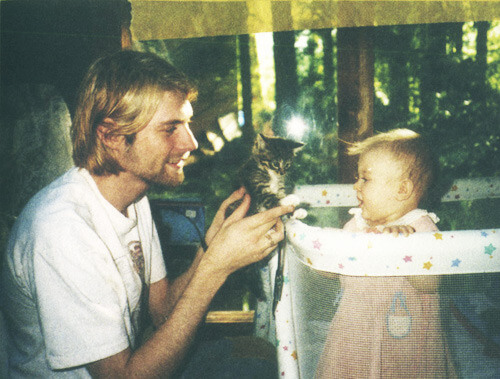 Kurt, Frances y un gatito.
Las declaraciones de su madre, padre, hermana, madrastra, una ex novia y Krist Novoselic, el bajista de la banda de grunge que fundó Kurt, enriquecen a sobremanera el documental y desmienten el mito que se le ha atribuido al compositor, acerca de ser el vocero de su generación, algo que simplemente le disgustaba.
Cobain únicamente quería hacer música, la fama que alcanzó sólo le agravó un problema estomacal que arrastró durante años y pese a su depresiva forma de ser, en algún momento buscó ser feliz e iniciar una familia como la que no tuvo.
Es ahí donde entra Courtney Love a la historia y termina la proyección de Kurt en el film para dar paso a la de ella, pues se aprecia un intento por demostrar lo entregada que fue a su matrimonio e hija, así como lo mal que la pasaba por la aversión de las fanáticas de Nirvana, por ser la esposa de su ídolo juvenil.
la guapa Frances Bean
"Quiero anunciar que este es el último concierto que voy a dar porque mi mujer piensa que ustedes la odian, así que vamos a dedicarle este show a ella y les pido que le digamos que la queremos: ¡Courtney, te amamos!",
le dice Kurt Cobain a una multitud en una presentación del grupo, como parte de la cinta que se vuelve pretenciosa a partir de la aparición de Love.
Limpiar la imagen de la esposa de Kurt es a lo único que te van llevando los últimos fragmentos del documental y aunque Courtney no tuvo participación creativa en éste, pareciera que Frances Cobain, la hija de 22 años del matrimonio y quien fungió como productora ejecutiva, saldó una deuda emocional con su madre.
Es cierto que "Kurt Cobain: Montage of heck" es lo más honesto que podrás encontrar sobre la vida del músico, a quien se busca humanizar y exponer a través del arte que creó. Sus diarios, el material inédito y las declaraciones familiares combinadas con videos musicales, animaciones, fotografías y diversas herramientas cinematográficas son llevadas de manera magistral, pero se pierde el hilo de la historia de Kurt Cobain para adentrarse a desmentir el factor Courtney Love como pareja dominadora de un marido sumiso.
También hace ruido que Dave Grohl, quien fuera baterista de Nirvana, no apareciera en alguna declaración sobre Cobain, como lo hace Novoselic. Sin embargo, esto no le resta puntos a la creación de Brett Morgen quien confesó al New York Times que al terminar el documental "me dejó sin nada, fui al baño y lloré durante 25 minutos".
La complejidad de la mente de Cobain alargó a ocho años un proyecto que se tenía pensado realizar en año y medio, además de algunas controversias legales que al final le valieron un premio en el Festival de cine Sundance 2015, por lo que "Kurt Cobain: Montage of heck" se coloca como una película obligada para seguidores del cantante, y para las nuevas generaciones que deseen conocer a fondo a este ícono enigmático de la historia musical.